Top 3 Ways to Overcome Self-Doubt as a Female Entrepreneur
Is the business world still a man's world? According to Crunchbase, only 17% of all startups in 2017 had a female founder. Furthermore, in 2012, there were only 9.9 million female owned businesses in the U.S., if we believe the numbers provided in the Survey of Business Owners. With only a handful of women in the business world, it is expected that being a business owner will be harder for females in the market than for males. There are multiple reasons for this, however, one mammoth reason is the female entrepreneurs own self-doubt.
Related:  The Secrets to Manifesting Your Dreams
Being one of the few female founders makes it more intimidating for those in question, which gives rise to self-doubts, baseless fear, and loads of stress.
A million thoughts might be going through your head as a female entrepreneur.
Are you good enough and capable enough to run a business? Can your business last the first crucial five years in the market? Will you be able to manage running a business and give enough time to your home and kids? Can you deal with all the suppliers, clients, and customers without your gender posing a problem?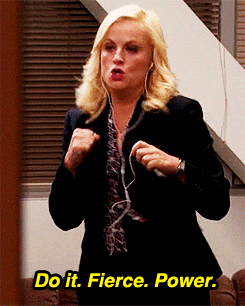 Your own insecurities and self-doubt are what come in the way of your goals and dreams. As a business coach, I have witnessed it firsthand that from the number of clients that seek my counsel, are plagued by their own self-doubt, which also takes a toll on their business. Thus, in order to reach their goals and aspirations, fempreneurs should overcome their self-doubt. Here are some ways you can do so:
Do not compare yourself to anyone else.
It isn't necessary that you follow the same path as someone else who achieved success. You need to make your own choices and decisions that are best for you. You have your own path so do not put yourself down or doubt yourself if you, your life or situation is not like that of someone else.
You don't have to conform to the role of conventional leader or businessman.
Sometimes female business owners think that in order to survive in the cutthroat world of business or to deal with people, they have to act like a man or be aggressive. Listen here ladies! You DO NOT have to be something you are not to be a successful leader. First and foremost be true to yourself if you want your visions as a fempreneur to materialize.
Related:  How to Become a Mindful and Effective Leader
Sometimes the best remedy for self-doubt is going over your prior achievements and struggles.
Make a book or box and fill it with your awards, certificates, notes, and memorabilia of things that make you realize how far you've come and all that you have achieved. Viewing these items when you are down will help you stay motivated, inspired, and focused on achieving your dreams.
As an advisor and a female coach, my recommendation to you would be to rid yourself of self-doubt in order to achieve success as an entrepreneur. This is the hardest challenge you will have to face.
Once you have overcome your self-doubt, the rest of the challenges are something that you can effectively tackle.
Do you want to become as successful fempreneur?  Head over to my FREE Masterclass to find out how you can build a multi-6 figure level business in less than 12 months, so you can 'Live and Work FREELY'!